Our Water Resources Department's focus is simple. Move water to where it should be, and make sure it's clean when it gets there.

As infrastructures expand, protecting water resources has been a growing concern for environmental engineers. Starting as a branch of civil engineering, water resources has evolved into an independent, multi-faceted engineering field of its own. Today's environmental engineers must now be knowledgeable in utility financing, environmental regulations, hydrogeology, biology, chemistry, and hydraulics. Our Water Resources Department can guide clients through these complex utility needs that will enable your community to grow in harmony with nature.
Our team provides a diverse range of experience, from traditional to innovative solutions to your utility problems. Our engineers have helped clients in all aspects of collection/distribution, treatment, rehabilitation, construction, and operation of modern treatment systems required to meet today's strict environmental standards.
Services We Provide

Engineering and project management for the following sectors:
Drinking water

Waste water

Storm water

Site design

Municipal engineering

Featured Projects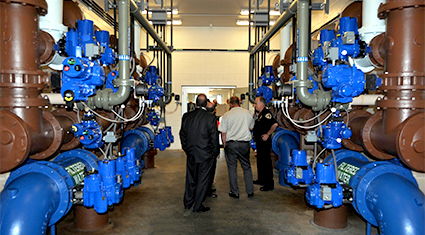 Chandler Water Treatment Facility
BLN designed a new water plant for Chandler using a process that resulted in cost savings by reducing the number of treatment units and allowing for smaller filters due to the higher loading rate. This new filtration process allows for a smaller footprint and was the first of its kind to be used in Indiana. BLN's design increased the water treatment capacity from 2.2MGD to 4.3MGD. This project won an ACEC Merit Award.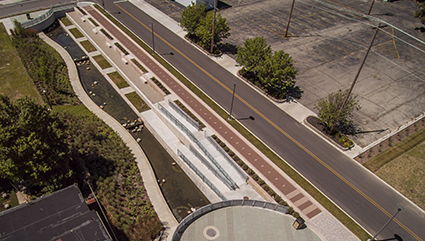 Franklin Street Storm Water Project
BLN designed the Franklin Street Storm Water project, which involves the installation of 3,600 feet of stormwater pipe, ranging from 40 inches to 96 inches, in the heart of downtown Muncie. Because it is a high-profile economic development project, it was on a four-month accelerated design project schedule.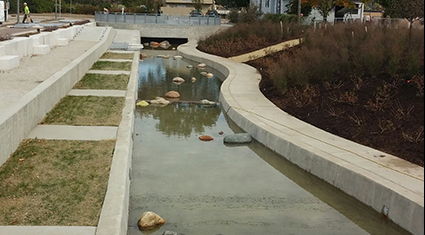 Tillotson Force Main Relocation
BLN was responsible for the timely relocation of a sanitary force main pipe which was mounted to an existing bridge slated for demolition, requiring a significant amount of creativity and unique solutions. BLN's final design accommodated flows from many sources and we were able to keep the existing pump station in operation during the entire project, preventing disruption to users. This was a fast-tracked project.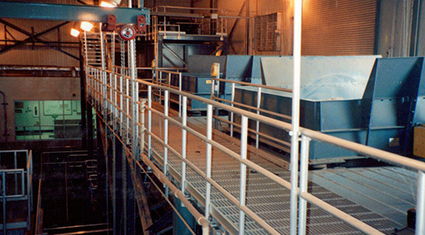 Anderson Waste Water Treatment Plant
BLN has worked with the City of Anderson on many waste water improvement projects. Most of our improvement projects are the result of an on-going citywide CSO study, SSO study, and MS4 non-point sources pollution prevention measures. Our team is also assisting the City in preparation of capital improvement programs and a long-term control plan. The Anderson Wastewater Treatment Plant project consisted of implementing a new sludge stabilization process in Anderson known as the N-Viro Process.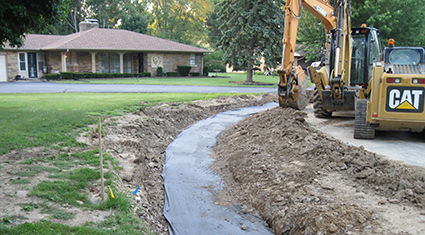 Northern Estates DPW
BLN was hired by the Indianapolis Department of Public Works (DPW) to evaluate, develop a scoping report and design of a new storm sewer, and drainage system in the Northern Estates (400-home subdivision) section of the City. This project was the second hybrid infiltration ditch project.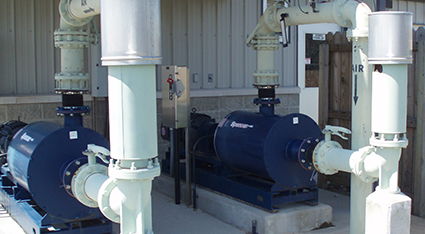 Morocco Waste Water Treatment Plant
BLN was responsible for a new wastewater treatment plant, approximately 55,000 feet of gravity sanitary sewer, and five pumping stations to serve a previously unsewered Town of Morocco. Despite rate increases to users, BLN's design was met with overwhelming support from users that recognized the improvements this would bring to their community. This project won an ACEC Merit Award and was an ACEC National Finalist Award Winner.