INDIANAPOLIS, IN – The Louisville-Southern Indiana Ohio River Bridge East End Crossing project won a 2015 Global Road Achievement award by the International Road Foundation (IRF). Indiana-based engineering firm Beam, Longest and Neff (BLN) is part of the program management team and has been involved in the project since its inception. The selection was made by a panel of senior road development specialists for the IRF. BLN, as part of a venture with prime consultant Parsons, provided a number of services including program management, environmental services, engineering feasibility study, traffic analysis, public coordination, right-of-way services/land acquisition, construction observation, and coordination of more than 40 subconsultants.

The purpose of the Louisville-Southern Indiana Ohio River Bridges Project is to improve safety, alleviate traffic congestion and connect highways. It will connect the east end of Louisville to southern Indiana, near Utica. The Kentucky approach to the new bridge will extend I-265 (the Gene Snyder Freeway, also known as KY 841) from its current termination at U.S. 42 to the bridge, adding a new four-lane 1.4-mile section. The Indiana approach also will be a four-lane section and will extend SR 265 (the Lee Hamilton Highway) four miles from its current termination at SR 62 to the bridge.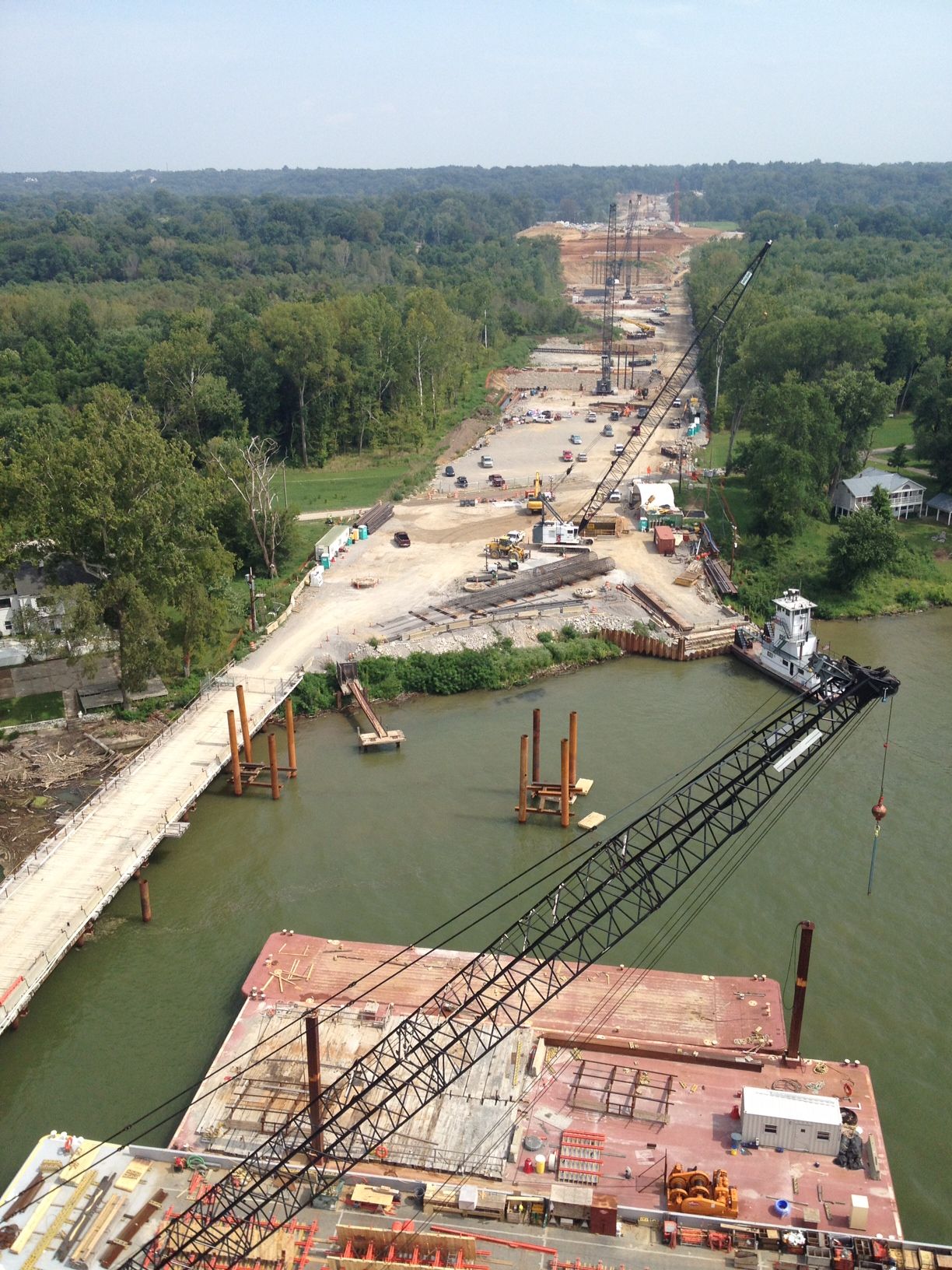 The East End Crossing will provide several very specific benefits to the Louisville and Southern Indiana area, including convenient access for area residents commuting between eastern Jefferson County and southern Indiana and an alternate route that bypasses the urban traffic of downtown Louisville. A joint project between the Indiana Department of Transportation and the Kentucky Transportation Cabinet, initial construction activity began in spring 2013 and will be substantially completed and open to traffic in late 2016.
Twelve projects from around the world were honored by the IRF, each leading the way in innovation across major road and highway disciplines. The East End Crossing project was recognized in the project finance and economics category. A key contribution that BLN made to the project was its work to value-engineer it from an initial price tag of $4 billion down to $1.8 billion. Significant cost savings and an accelerated project delivery were accomplished through the utilization of a public-private partnership (P3) procurement process for the development, design, construction, financing, operation, and maintenance of the new cable-stayed bridge, the Indiana approach, and a portion of the Kentucky approach.
The P3 East End Crossing project will save $228 million in construction costs over the original estimate and will be completed—on an accelerated schedule—242 days prior to the Indiana Finance Authority's (IFA's) timeline in its request for proposal. In addition, the project will be completed eight years earlier than what would be likely under a traditional design-bid-build method of project delivery.
The project team was also recognized with the International Right Of Way Association's 2013 "Project Of The Year" award for its right-of-way services, which were led by BLN. "Much of the transport sector's accomplishments are unnoticed by the hundreds of millions of people who benefit so greatly from the availability of safe, smart and interconnected road networks," said Federation Chairman Abdullah A. Al-Mogbel. "This is precisely why the IRF's Global Road Achievement Awards provide a rare opportunity to celebrate our industry's successes and highlight how our work supports broader societal goals." "For the past 15 years, our awards program has constituted an industry reference for innovators across the globe," said IRF President & CEO C. Patrick Sankey. "Year after year, our sector demonstrates that it is a source of cutting edge solutions that makes a difference in our communities. By embodying our ideal of better roads for a better world, these 12 projects join an elite circle of international laureates." The winning projects range from the innovative use of construction techniques for one of the world's longest suspension bridges in China, to advanced free-flow tolling in Slovakia, a sophisticated people mover in Saudi Arabia, and a major road infrastructure program that has unlocked social development in Eastern Indonesia. The 2015 GRAA trophy presentations will take place on September 17, 2015 at the first IRF Europe & Central Asia Regional Congress & Exhibition in Istanbul, Turkey. ###
About Beam, Longest and Neff, LLC
A third-generation firm headquartered in Indianapolis, Indiana, BLN is one of the largest full-service engineering firms in the region. BLN delivers comprehensive solutions for all facets of infrastructure projects and has offices in Indiana, Kentucky, Colorado and West Virginia. BLN is listed in ENR Midwest as one of the top midwest design firms and in ENR's top 500 design firms in the U.S.
About the IRF
The International Road Federation, founded in 1948, is a not-for-profit, non-political organization with the mission to encourage and promote development and maintenance of better, safer and more sustainable roads and road networks. With a network in 117 countries across six continents, the IRF believes it can make a difference by providing best practices and expert advice to today's multi-faceted world of transport.