We provide a team who will continually focus on meeting any challenge given. We will work closely with you, delivering excellent service set by our own high standards based on these four values: safety, expedient decisions, proper and timely documentation, and constructing the project the right way.

Our Construction Services discipline oversees all construction activities, using a clearly defined method of approach to construction inspection projects. Our project supervisors and inspectors keep close watch on every detail of a construction project: daily inspections, document control, change order management, testing, Quality Assurance/Quality Control (QA/QC), Maintenance of Traffic (MOT), work zone safety, and ensuring contractors stay on task, schedule, and budget. Project after project, BLN consistently receives excellent reviews on our projects.
Each inspector in our discipline is appropriately certified in all categories and required software. BLN technical staff can also assist our field teams as needed.
Services We Provide
Conduct/attend the pre-construction conference and develop minutes

Provide continued coordination between all parties

Conduct the project progress meetings on a weekly, bi-weekly, or monthly basis
Provide coordination with any affected property owners and businesses

Review environmental compliance during construction

Review requests for additional information from the contractor

Forward shop drawings to the designer for review

Provide weekly progress reports for the project

Review and monitor construction schedules prepared by the contractor

Review progress payments based upon the progress schedule update

Photo document all stages of construction

Help ensure the maintenance of traffic is functioning properly and safely

Perform and/or review contractor's test/certification results for compliance

Prepare and maintain correspondence and daily reports

Develop/maintain construction punch lists

Maintain a set of as-built drawings and assemble all close-out documents

Develop the final construction record

Featured Projects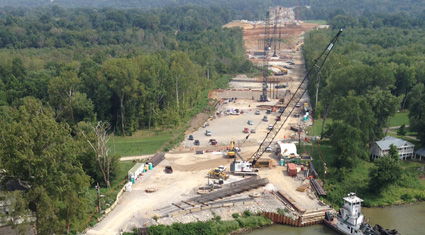 Ohio River Bridges Project Construction
BLN has been involved in the project almost since the beginning—decades ago. BLN assisted INDOT and the Indiana Finance Authority with the construction inspection, design review, and environmental review for all three sections of the East End Crossing. The project included a new six-lane northbound bridge, spaghetti junction (I-71, I-65, and I-64), secondary roadways and bridge approaches in Indiana, and rehabilitation of the I-65 Kennedy Bridge, which has six lanes southbound. This project has received numerous awards, including an Engineering Excellence Award from the Consulting Engineers of Indiana, the Top Project Start by ENR Midwest and Project of the Year by the International Right-of-Way Association (IRWA).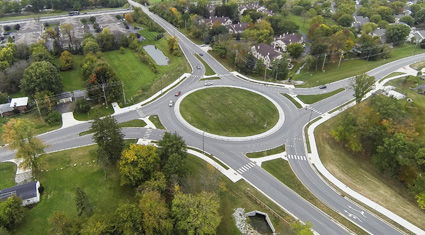 96th Street and Towne Roundabout
BLN completed the construction inspection of this intersection into a new roundabout. The new roadway is two lanes wide with a large center circle to accommodate a landscaping package. This project won an ACEC Merit Award.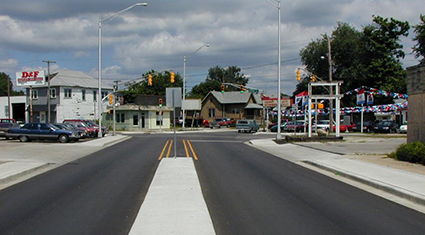 Dr. Martin Luther King Jr. Boulevard
BLN provided the construction inspection for the three phases of the reconstruction and widening of Dr. Martin Luther King, Jr. (MLK) Boulevard (Pendleton Avenue) totaling approximately $12.6M in construction costs. This project won an ACEC Merit Award and an Indiana Commissioners Engineering Achievement Award.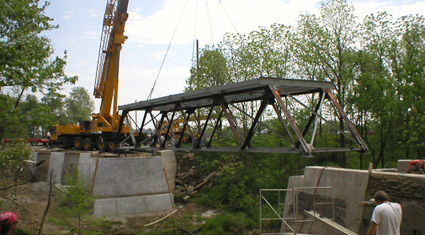 Newton County Bridge No. 57
This project was for the steel deck truss rehabilitation for Newton County Bridge No. 57. BLN's work included the inspection, preparation of the TE Funds application, bridge condition report, detailed plans, and specifications, and construction inspection. Design services included the development of a bridge rail that was aesthetically similar to the original rail but incorporated modern safety features and the use of riveted connections to maintain the bridges historical appearance. Extensive environmental coordination was required.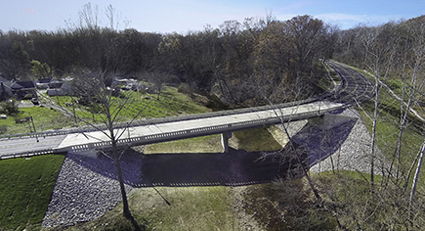 Monroe County Bridge No. 12
This project included the replacement of Stinesville Road over Jacks Defeat Creek bridge. It also included the replacement of the existing two-span bridge with a new two-span structure on a similar alignment. The proposed bridge consisted of a two span (89 feet – 89 feet) continuous composite prestressed concrete bulb–tee beam bridge with a concrete deck. An MSE wall was built around a precast concrete box culvert carrying the existing Pogues Run through the project. The MSE wall was used at the west abutment to reduce the bridge length and reduce project costs.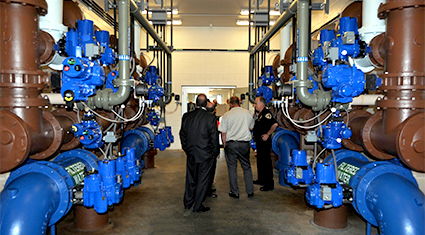 Chandler Treatment Facility Construction Inspection
BLN performed construction inspection of their new 3.2MGD water treatment plant, which included significant improvements to their overall capacity. This project won an ACEC Merit Award.