Our team has the ability to provide innovative options and turn them into real solutions for you.
With more than 5,000 structures inspected and designed, our bridge department is one of the most recognized in the industry across the Country. Our team is experienced in a variety of services, BLN has the flexibility to meet the specific needs of most any project.
Services We Provide
Bridge Replacements

Long Span: steel through and deck trusses
Medium Span: prestressed concrete, post-tensioned beams, and steel beams/girders
Small Span: reinforced concrete, post-tensioned slabs, and prefabricated structures
Complex Structures: curved girder, post-tensioned beams, and slant leg frames
Other Structures: railroad and pedestrian bridges
Bridge Studies


Hydraulic analysis and floodplain modeling
Bridge condition reports
Engineering assessment reports
Bridge scoping reports
Economic life-cycle cost comparisons
Bridge Rehabilitations

Deck overlays and widening
Bridge deck replacements
Superstructure replacements
Timber covered bridges
Steel trusses and concrete arches
Historic bridges
Bridge Inspections and Inventories


National Bridge Inspection Standards (NBIS)
Featured Projects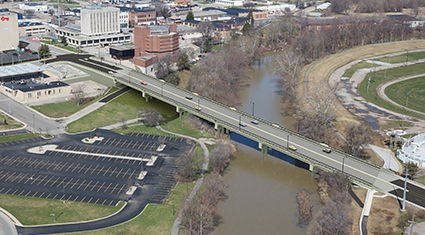 Madison County Bridge No. 502
BLN coordinated the replacement of Bridge No. 502, with a new bridge consisting of a six-span, pre-stressed concrete U-Beam bridge, approximately 693 feet in length.
I-70 Over SR 121
This project was designed with an Accelerated Bridge Construction method using a slide-in bridge installation. This innovative BLN design minimized single-lane closure of I-70 for only eight days per superstructure slide. The new bridges were slid into place with a single-lane closure of I-70.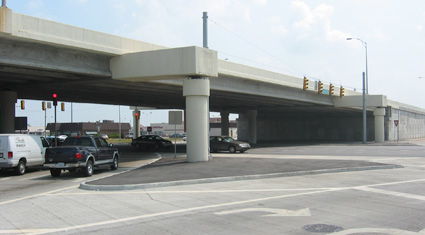 SR 66 Over Green River Road
This project included the replacement of the existing bridge on SR 66 over Green River Road. The existing single-span steel girder bridge was replaced with a new curved three-span post-tensioned concrete bulb-tee beam bridge. The interior supports consist of integral post-tensioned concrete straddle bents. The total bridge length is 317'. BLN also completed the design of a mechanically stabilized earth retaining wall extension. This quality project was recognized by ACEC Indiana in 2005 by awarding the project an Honor Award in the Engineering Excellence Competition. The bridge project also went on to receive a 2005 National PCI Design Award.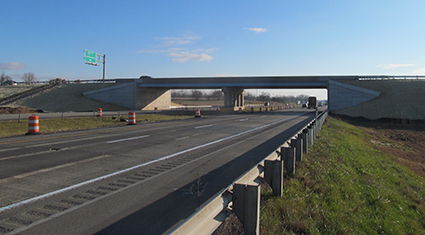 SR 1 Over I-70
Originally, this bridge was planned for a superstructure replacement by INDOT, but our bridge team recognized that the deck and steel beams of the interior spans were still in good condition and proposed an alternative two-span solution that reduced construction costs by $100,000, saving the client time and money.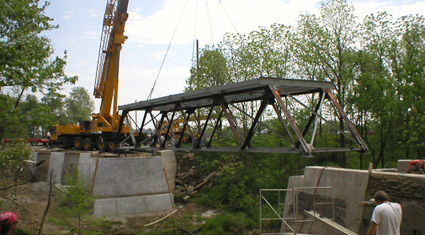 Newton County Bridge No. 57
This project was for the steel deck truss rehabilitation for Newton County Bridge No. 57. BLN's work included the inspection, preparation of the TE Funds application, bridge condition report, detailed plans, and specifications, and construction inspection. Design services included the development of a bridge rail that was aesthetically similar to the original rail but incorporated modern safety features and the use of riveted connections to maintain the bridges historical appearance. Extensive environmental coordination was required.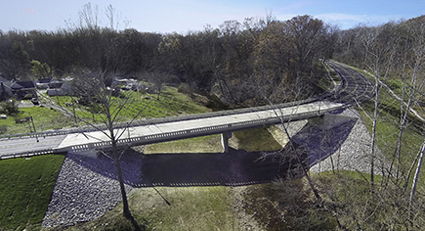 Monroe County Bridge No. 12
This project included the replacement of Stinesville Road over Jacks Defeat Creek bridge. It also included the replacement of the existing two-span bridge with a new two-span structure on a similar alignment. The proposed bridge consisted of a two span (89 feet – 89 feet) continuous composite prestressed concrete bulb–tee beam bridge with a concrete deck. An MSE wall was built around a precast concrete box culvert carrying the existing Pogues Run through the project. The MSE wall was used at the west abutment to reduce the bridge length and reduce project costs.